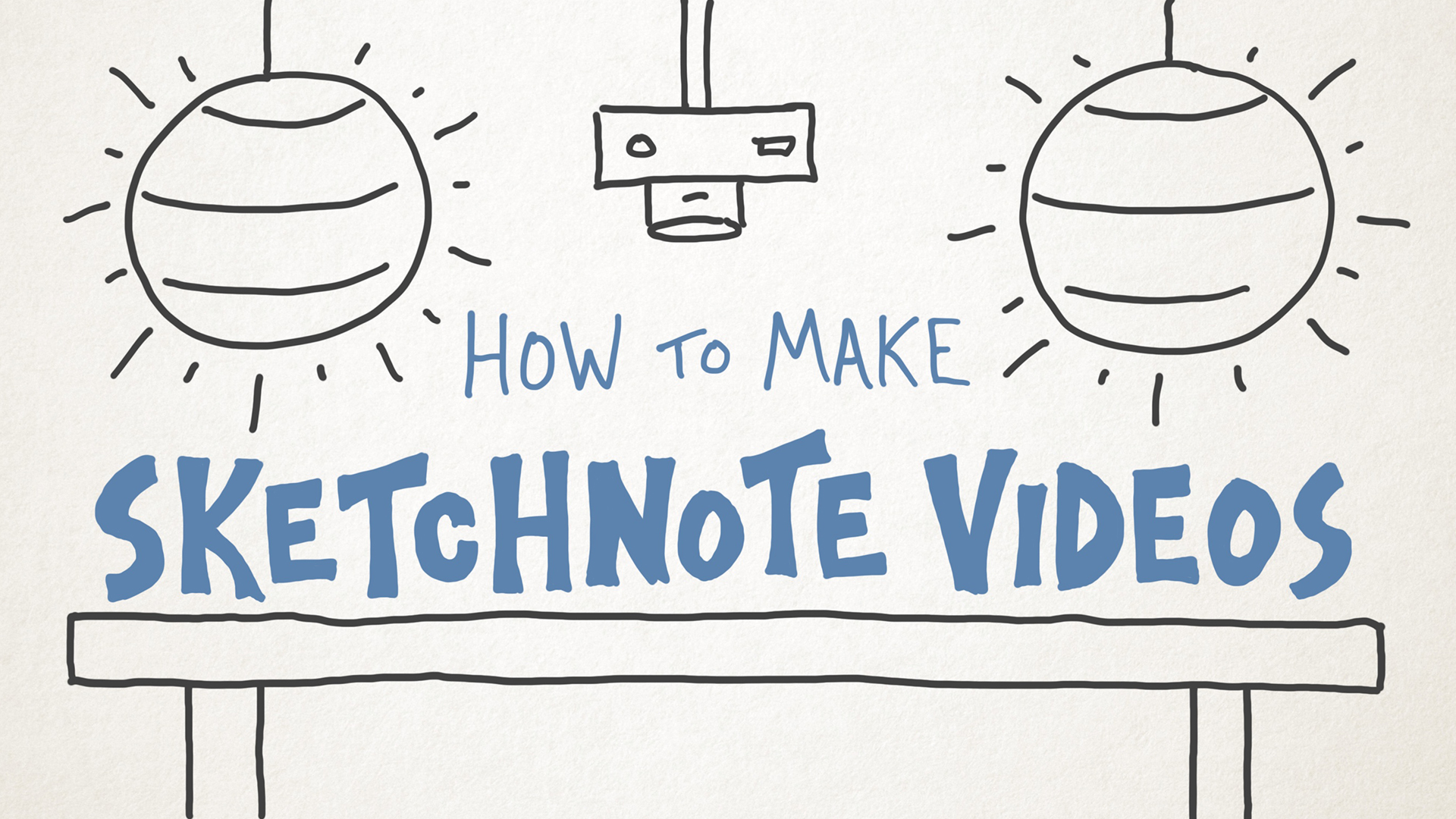 How to Make Sketchnote Videos
---
Share your story.
Tap into the power of visual storytelling as you learn the tools and techniques for making illustrated videos.
---
The Power Of Visual Storytelling
As human beings we're hardwired to respond to stories. Through stories we make sense of the world.
As visual beings we're hardwired to respond to visual stimuli. More of your brain is dedicated to the processing of visual information than any other sense.
So if you've got an idea to share or a story to tell, you'd be leaving a lot of potential unused if you don't add some visual elements into your storytelling process.
The Power Of Sketchnote Videos
When you bring static images into your process for sharing ideas, your audience with thank you.
When you add in video with sketchnoted elements, your audience will love you.
With video, you engage not only the eye but the ear as well.
And instead of being overwhelmed with the complexity of a completed visual, your viewers will get to see that visual come to life. They'll get to see the progression from a blank page to a full set of sketched ideas.
I'll Teach You How, Step By Step
The tools to create sketchnote videos like the ones you'll find below have never been more accessible and affordable.
In this course you'll learn how to use those tools. And just as important, you'll learn the core principles that will ensure that the videos you create have the intended impact on your audience.
---
Course Overview
---
---
Part 1:
An Introduction
An overview of the the course and the philosophy that guides it.
Part 2:
Planning Out Your Video
Master the pre-production steps as you craft the story you'll share.
Part 3:
Whiteboard Animation
Learn how to use the tool VideoScribe to create your sketchnote videos.
Part 4:
iPhone & iMovie
Learn how to make pen and paper sketchnote videos with an iPhone and iMovie.
Part 5:
DSLR & Adobe Premiere Pro
Bump up the production value of your videos with a DSLR camera and Adobe Premiere Pro.
Part 6:
Make, Share, Repeat
Learn how to go about improving the quality and increasing the impact of your videos.
---
Come Behind The Scenes
Within this course I'll take you behind the scenes as I show you every step of the process in creating these videos for the Verbal to Visual YouTube channel:
---
Learn from Anywhere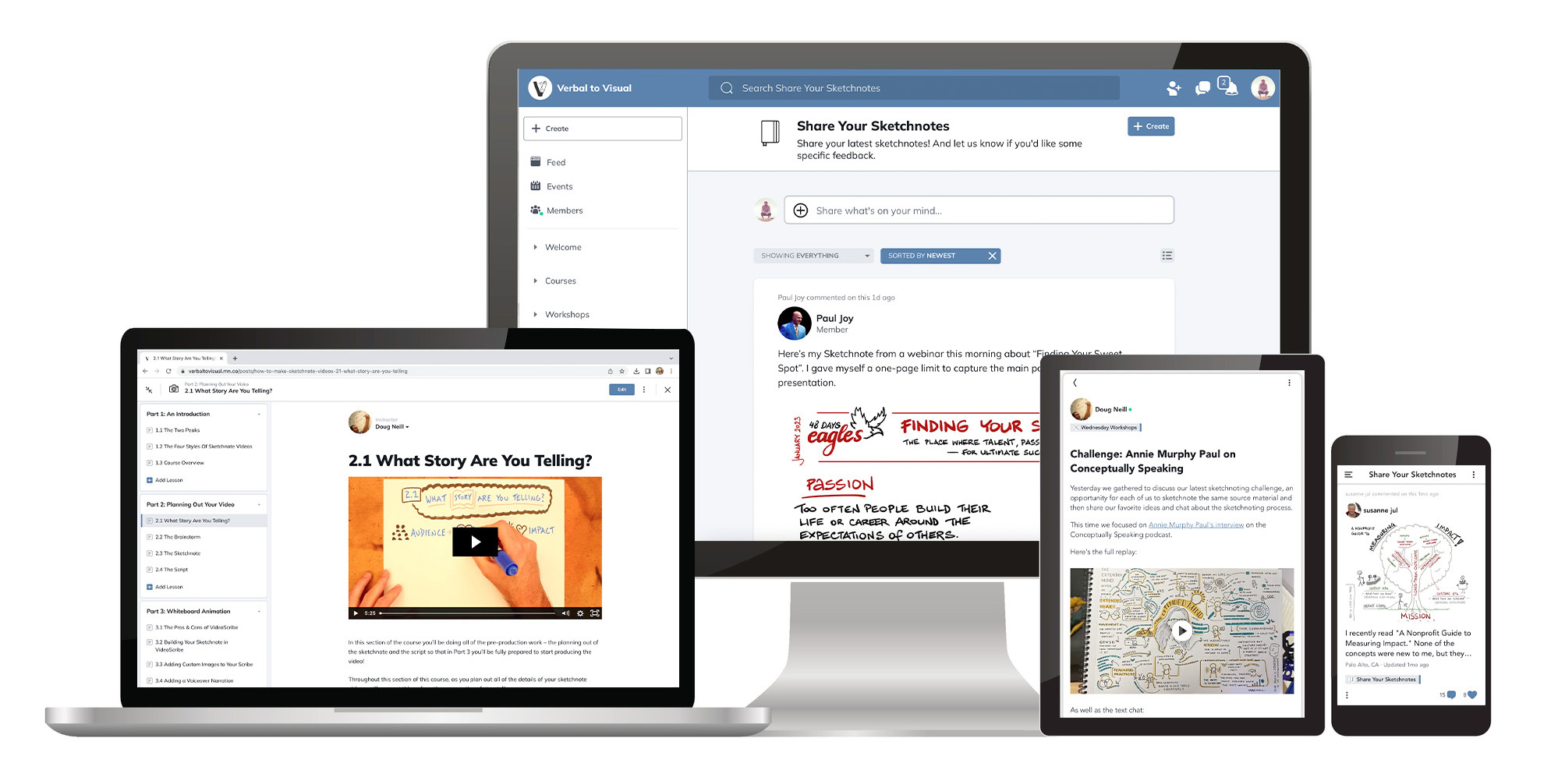 Built on top of the Mighty Networks platform, you'll be able to access all of our resources from any browser or by using the native iOS or Android app.
---
I loved the different settings Doug offered for starting with a sketchnote video. It offered me the possibility of finding the way that's the best for me! Which at the end was the pro-version with Premiere Pro 🙂 And I managed it because of the well explained, step-by-step tutorial offered in the course. Thanks for that!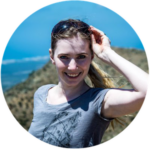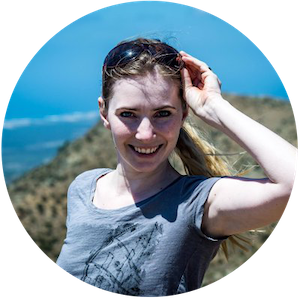 Katarina G.
---
Bonus Workshops
In addition to all of the course materials described above, you'll also get access to the replays of these workshops.
---

Sketchnote Videos on the iPad with Procreate
There's a whole lot of untapped potential when it comes to using an iPad to create sketchnote videos, and in this bonus lesson I'll show you how to get started.

Storyboard Your Next Video
In this workshop we walk through the process of storyboarding a hand-sketched video.
---
Get this Course
Are you ready to start making your own videos?
---
---
One-Time Fee For Lifetime Access
Once you pick up this course you'll have lifetime access to all current and future resources contained within it.
30-Day Money-Back Guarantee
I want you to be able to experience this course from the inside to see whether or not it's a good fit for you. With that in mind, if you're not satisfied with what you see after your first 30 days, I'd be happy to return your money.
---
Course Bundles
How to Make Sketchnote Videos is included in the following course bundles:
---