The Verbal to Visual Community
Verbal to Visual exists to help you create drawings and diagrams that move you from confusion to clarity so that you can better remember, work with, and share ideas.
The journey that you go on when mastering the skill of sketching out ideas is much more enjoyable when you travel it with others, and it's within the Verbal to Visual Community where you'll find your fellow visual thinkers.
---
Why Community?
In her book The Extended Mind, Annie Murphy Paul describes how you can think outside the brain using your body, your surroundings, and your relationships.
That entire third category of socially-distributed cognition outlines the value of a learning community like ours.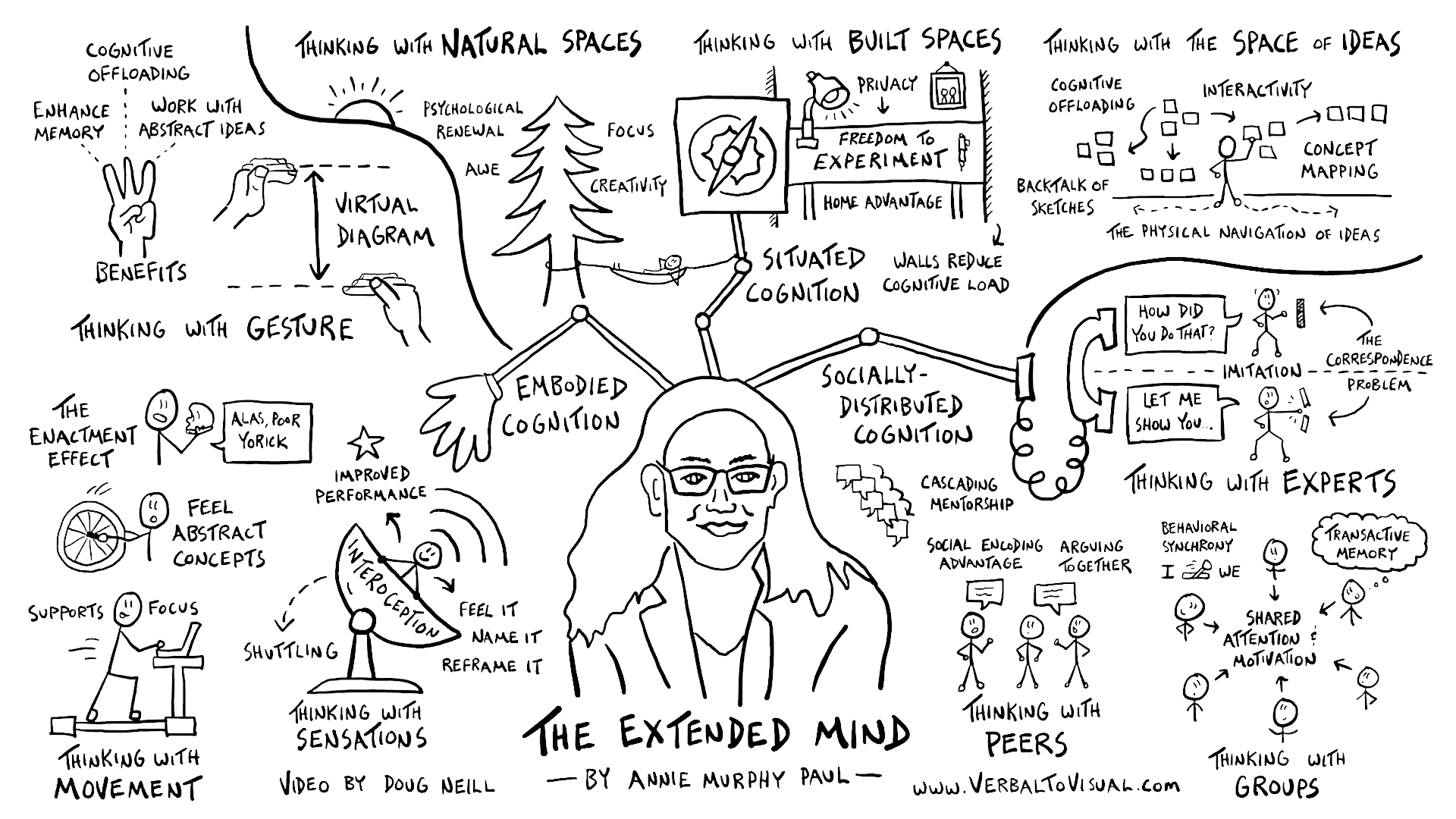 It's within this space that you can tap into the benefits of shared attention and motivation while learning from experts in the group and even participating in peer tutoring as you bring your unique strengths and experiences to the table.
---
Monday Momentum
We kick off each week with a short poll or prompt to get your visual thinking gears turning.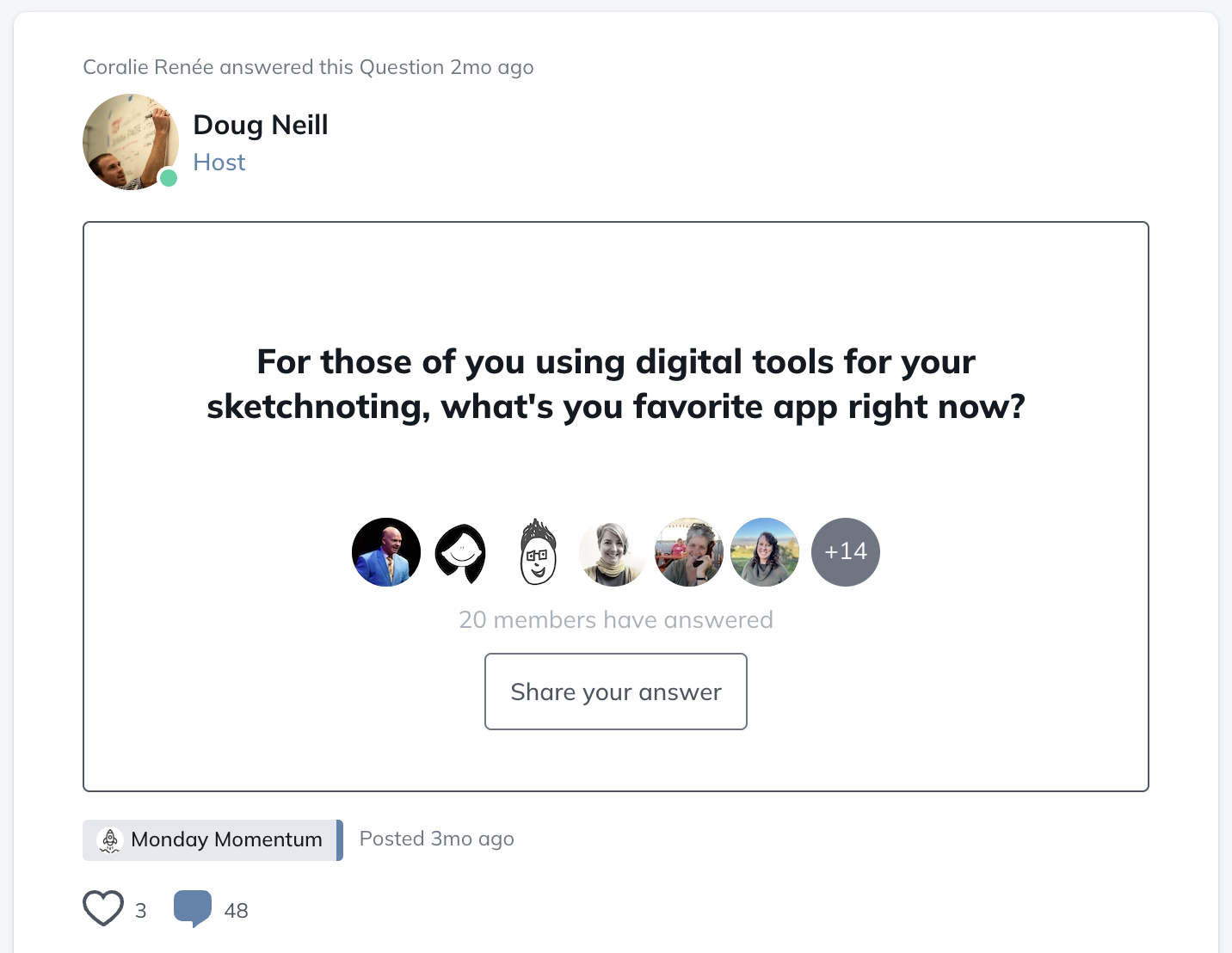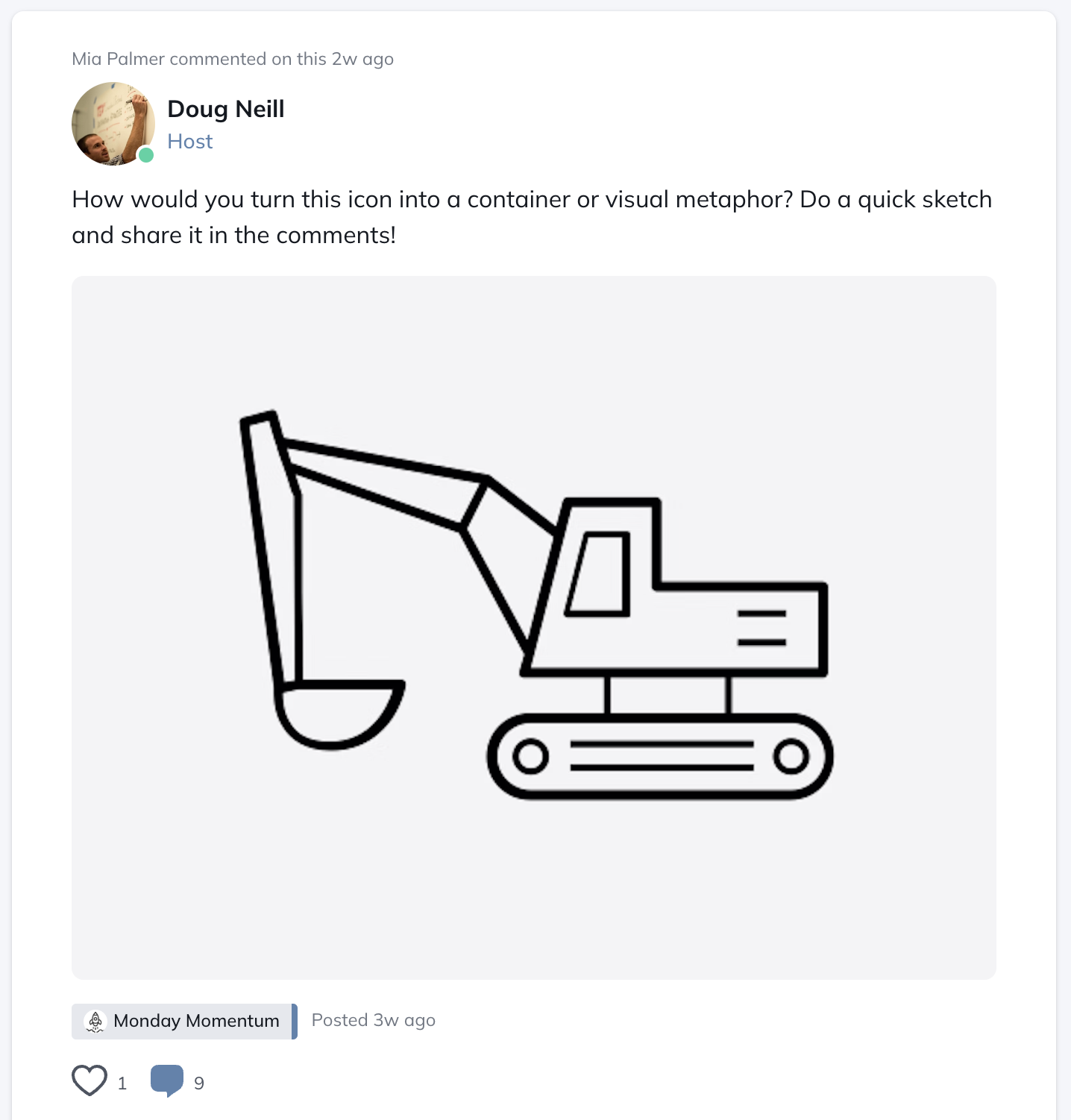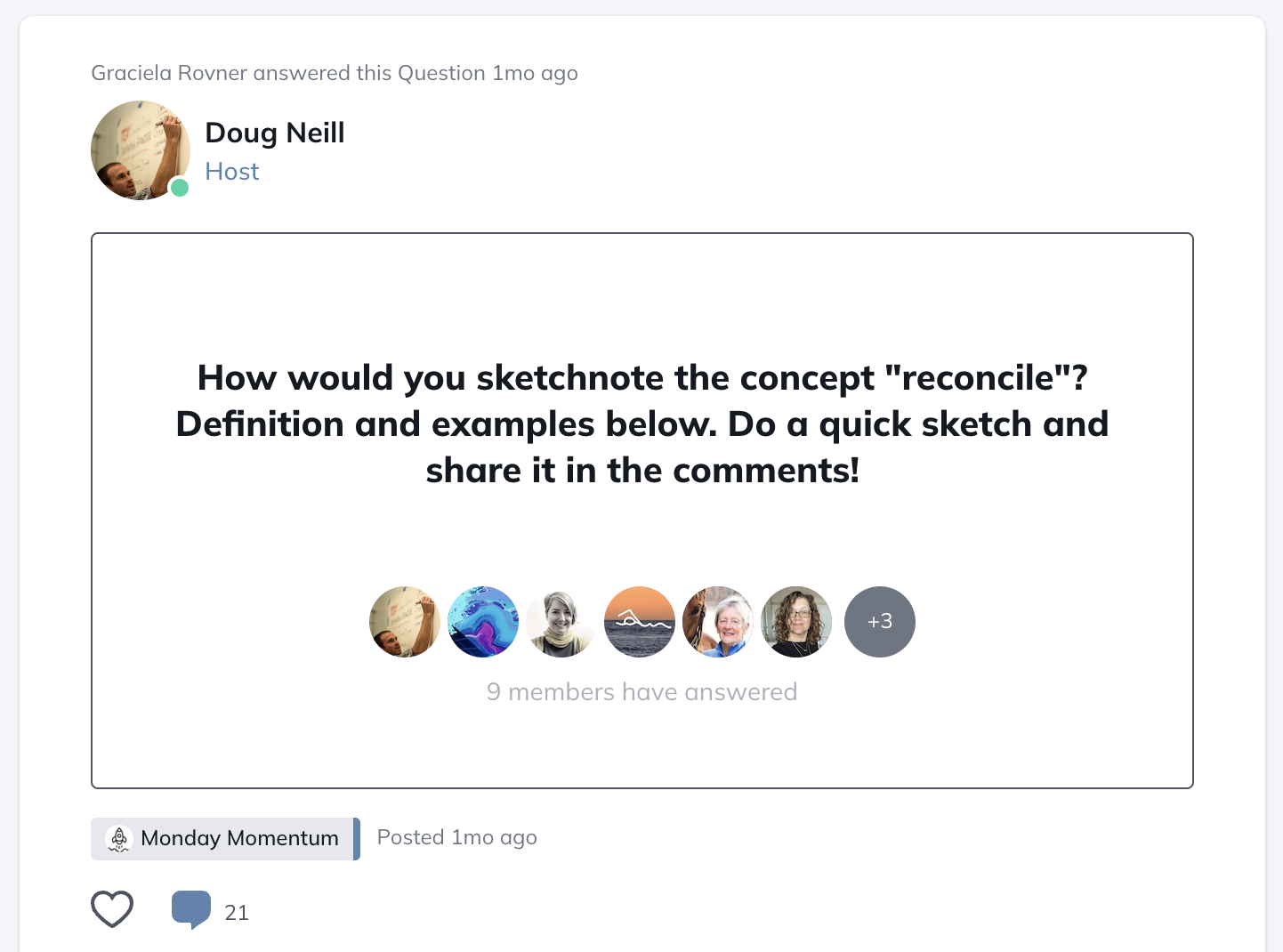 ---
Wednesday Workshop
Then on Wednesdays I host a live workshop in which you can build your skills alongside others.
The Sketchnote Social events are an opportunity for you to share what you're working on (be it one of our courses or your own sketchnoting project), ask questions, and get some feedback to help you continue moving forward. No formal agenda, just an opportunity to gather with other sketchnoters and support each other's work.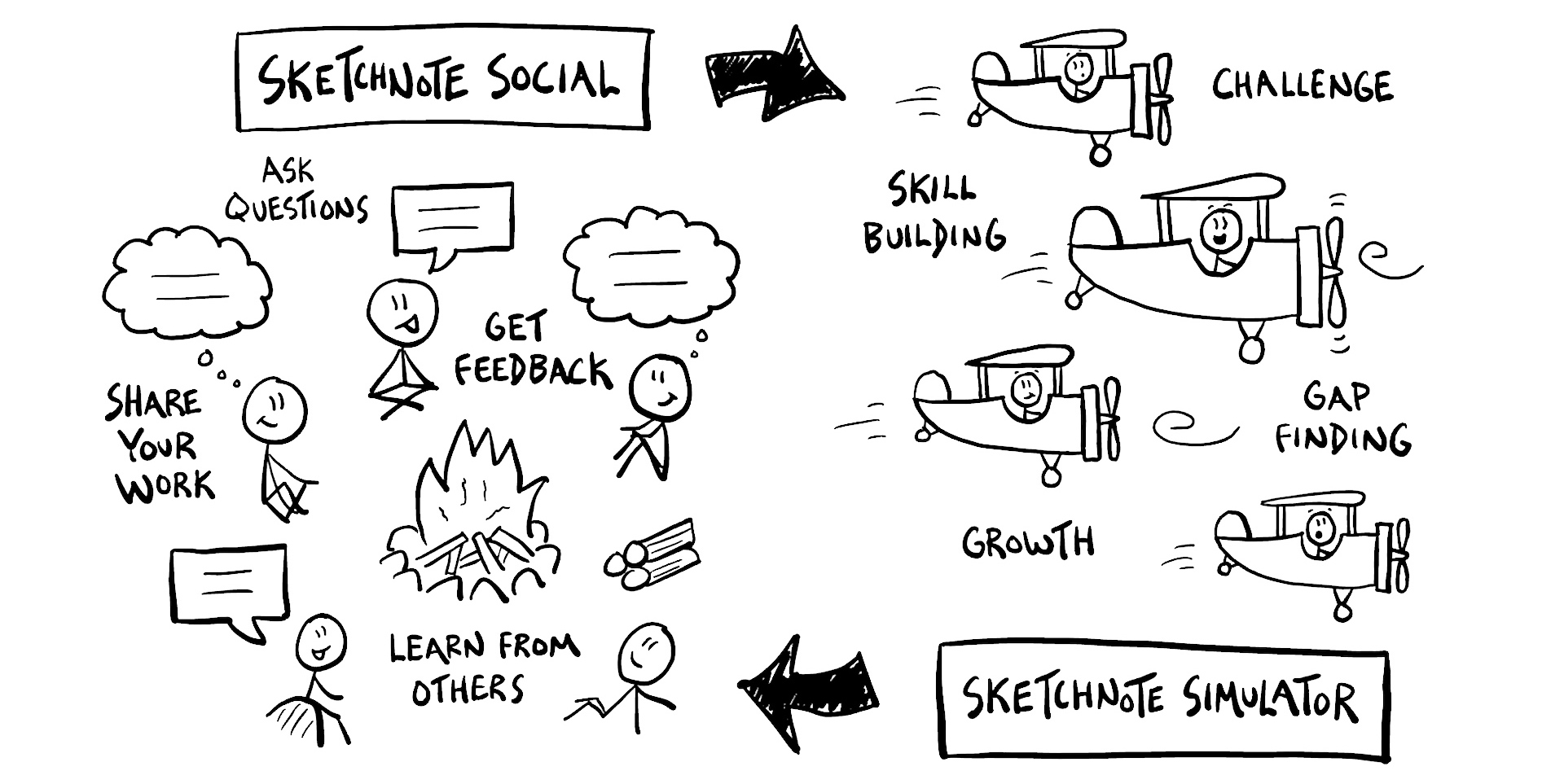 The Sketchnote Simulator events (modeled after a flight simulator) are a bit more active. We start with a warm-up, then I bring in some interesting source material or prompt to sketchnote (which you'll have some individual work time to dig into), and then we do some sharing out so that you can reflect on the experience and learn from the approaches of others.
Each week we alternate between those two styles of events, which take place on Wednesdays at 9:00am Pacific Time, run for about 90 minutes, and the replay is posted the following day.
Share Your Sketchnotes
You can also tap into some asynchronous learning by making use of the Share Your Sketchnotes, Q & A, and Sketchnoting Resources forums to post your latest work, ask the community a question, or share a useful resource from another corner of the web.
I think you'll be inspired by the work you see from other community members.
[create compilation image based on what I've requested permission to share for the newsletter]