In a few weeks I'll be kicking off a new round of live events inside of Verbal to Visual. We'll be alternating each week between two styles of events, the combo of which will help you build and maintain momentum with your sketchnoting work.
The Sketchnote Social events are an opportunity for you to share what you're working on (be it one of our courses or your own sketchnoting project), ask questions, and get some feedback to help you continue moving forward. No formal agenda, just an opportunity to gather with other sketchnoters and support each other's work.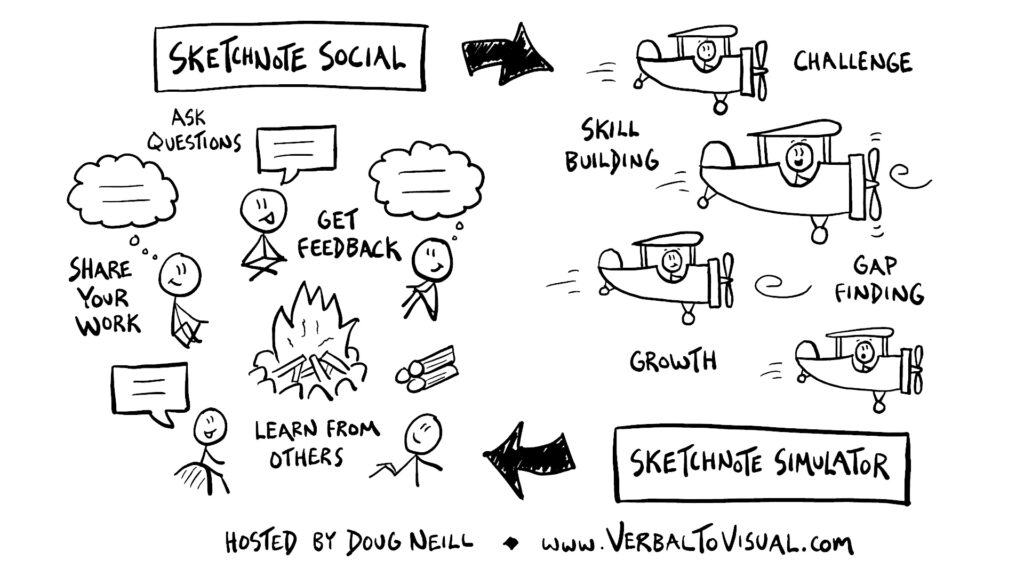 The Sketchnote Simulator events (modeled after a flight simulator) are a bit more active. We'll start with a warm-up, then I'll bring in some interesting source material or prompt to sketchnote (which you'll have some individual work time to dig into), and then we'll do some sharing out so that you can reflect on the experience and learn from the approaches of others.
My hope is that those two styles of live events will complement the complete-at-your-own-pace courses and give you everything you need to develop your visual thinking skills and then put them to good use.
The first Sketchnote Social will take place on Wednesday, September 6th at 9:00am Pacific Time, and the first Sketchnote Simulator the following Wednesday at the same time, and from there we'll continue alternating each week.
If you'd like to participate in those events, do come join us.
Cheers,
-Doug